MCG SS Metal Core Insulation Gasket utilizes a stainless steel core boned with high strength insulating laminate G10 or G11, which not only maintains the high strength of stainless steel, but also reaches an excellent insulation. It consists of a spring-energized Teflon seal which provides high confidence sealing and eliminates costly leaks. And the seal groove is cut into the stainless steel core, which can avoid leakage through the interval of two materials.
MCG Flange Insulating Gasket is designed to seal and insulate for very critical services. It can seal and insulate raised face flanges, full face flanges, and ring joint flanges at all pressures up to ANSI 2500# and API 15000#. While316 grade of stainless steel is most commonly required as a core material, we can also offer more exotic materials such as Super Duplex, Hastelloy and Inconel.
MCG SS Metal Core Insulation Gasket Kit includes MCG insulation gasket, G10 or G11 insulating sleeves and insulating washers, and zinc plated steel washers. And the material of insulating sleeves and insulating washers is usually upon to that of the insulation gasket's laminate.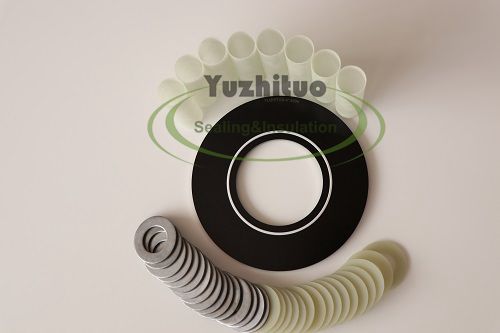 Flange Insulating Gasket Physical Properties

Property
Epoxy
Glass
G-10
Epoxy
Glass
G-11
Dielectric strengths,
Volts/mil
550
550
Compressive strength,
psi
50,000
50,000+
Water absorption, %
0.10
0.10
Insulating Resistance,
Meg Ohms
200,000
200,000
Flexural strength, psi
60,000
75,000+
Operating temp, ºF
-292 to +280
-292 to +350
Operating temp, ºC
-180 to +138
-180 to +177